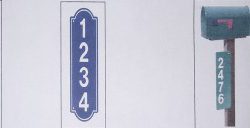 ***FREE***FREE***FREE***
At normal travel speed by your house at night, can you easily and clearly see your address?
If the answer is NO, Then neither can those coming to help you when you dial 911
As part of their Fire Prevention and Public Education efforts, Plattsburg Fire Protection District is offering to help solve this community problem for 100 homes in the Plattsburg Fire District each year at everyone's favorite price – FREE.
This is a joint effort with Plattsburg Pioneers 4-H
IF YOU LIVE IN THE PLATTSBURG FIRE PROTECTION DISTRICT ORDER YOUR SIGNS ON OUR WEB SITE.